Hello again Stalkers & Bloggers,
I always wanted to do a review on all of the makeup wipes I have tried out but never got to it due to my 'sloth-ness'. Here I will do a review on Neutrogena, Ponds, Simple, Yes to Cucumbers, & Target brand.
I'll start with Neutrogena because that was the worst brand of wipes I have ever tried. I think at first it worked for me fine, and I absolutely love the scent of the wipes it just comes down to that nowadays they make my skin burn and I was told that these wipes have alcohol in it so I guess it doesn't work great for people with sensitive skin but this is just my experience with them. I'd say buy the travel size if you really want to consider using them considering this is one of the top makeup removing wipes that I know of.
Pros: Scent | Cons: Makes my skin have a burning sensation, only 25 wipes for the price
(This right is the exact ones I used, I have as well tried the others and I'm just going to say my skin does not do great with Neutrogena.)
So Simple a UK based brand came out with new wipes ones for your eyes which is a pack of 30 & ones based for 'Oil Balancing' I didn't pay much attention to the eye removing ones but I needed new makeup wipes and Simple is the best brand that I have used so far. Let's just say they weren't as good as I had hoped they would be, I'm pretty sure the material was different as well as the smell. I'm not repurchasing the 'Oil Balancing' makeup wipes.
Pros: None | Cons: Did nothing, felt like a sanitation wipe, scent
The next makeup remover wipes that I have tried is the Target brand Up&Up makeup remover cleansing towelettes they say on the package that they are compared to Ponds Clean Sweep and I bought them being ignorant because I love the Ponds makeup remover wipes & as well as I enjoyed the travel version of them and hoped it would be the same. It was not the same I think these were a bit drier and made me break out a little I'll stick to higher drugstore brand makeup remover wipes for now on. Sorry Target, I still enjoy shopping there just not using your makeup wipes.
Pros: None | Cons: Dry, broke out, NOT SIMILAR TO PONDS.
(This wasn't the exact packing but it says the same thing on the front, the packaging I had, had raspberry and white stripes on the top and bottom.)
Everyone's favorite Yes to Cucumbers was good for the first 2 weeks after removing my makeup it made my skin feel soft, clean, refreshed, like I almost did my whole skincare routine but in 30 seconds. Although throughout using them it made my skin feel oily almost and I feel let down because I had bought my friends some as well, but they had different experiences using them. I say try these out yourself they aren't the best but they are still good and have a good scent as well.
Pros: Scent | Cons: After 2 weeks felt oily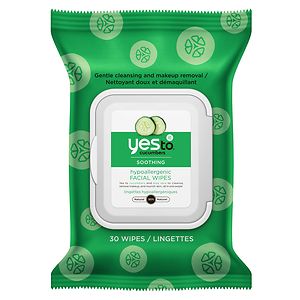 Onto the topic of Simple again I absolutely love their Cleansing Facial Wipes out of many wipes I use I do love these the best.
Pros: Scent, removed most of my makeup, helped clear up acne | Cons: None
The last two are a Ponds brand I want to say the original fresh one that I have bought twice now is alright, although I prefer the evening soothe which is an allure best of beauty 2011.
Pros: Scent, each wipe has a lot of remover [unsure if it's a good or bad thing] | Cons: None